BVSc, short term large game vet, Raoul's rider and collector of dogs, sheep, goats, pigs, cows, chickens, guinea pig
Helen says,
I grew up in Perth with my four brothers and sisters and was forever bringing home sick magpies and other natives to nurse back to health. After finishing high school I studied Environmental and Biological Sciences at Murdoch University whilst also being an active member of the Army Reserves and the State Emergency Services. I loved doing this community service and learnt many invaluable life skills (like how to wear orange overalls!).
Overseas Adventures
I wanted to spend some time abroad but still had a yearning to nurse animals back to health so headed over to the UK to study Vet Science at Liverpool University. After graduating in 2002 I worked in England for over 4 years. During this time I had the pleasure of working with some very talented surgeons and my passion for surgery was born. Two weeks after graduating, on my birthday, I was given a black and white kitten, Waine, who still lives with me today.
After working in one job for nearly three years Waine and I spent some time travelling England doing locum work.  Sometimes I had to sneak Waine into hotels in my backpack – he preferred the buffet breakfast at the Holiday Inn. We worked at various vet clinics in Dover, Devon, Wales and also spent time working  at the Cambridge University Vet Hospital. At Cambridge I worked as the referral vet over the Christmas break (it was freezing!).  During this time I had to deal with many different situations.
Two of my most memorable patients in the UK were a python with pneumonia and an eagle with a broken leg that I pinned. Both made speedy recoveries.
After being in the UK for 10 years I decided to come home to Australia, but needed some adventure along the way. I was very fortunate to be offered a six week working holiday position in South Africa, near Pretoria, with two large game veterinarians. We spent our time capturing and treating injured wildlife such as Cheetahs, Rhinoceros', Buffalo and several antelope species. Whilst I was having my adventure Waine had a holiday on a dairy farm near Gloucester, he spent his time eating Pheasant and drinking fresh milk.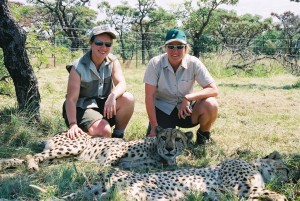 (Assessing a cheetah with a back problem, his friend was sedated too so they could be moved to a different area)
Not having quite satisfied my need for warmth and adventure I completed a charity trek across the top of the Great Thar desert in India, on a camel named Raoul. The trekking camels were amazing characters and very tough! The worst injury was a thorn in the sole of one camel's foot, which was easily removed. I am pleased to say he made a full recovery.
We met many wonderful locals along the way and I hope they got something from it as I know they gave me many unforgettable memories.
Back in Australia
Upon return to Australia poor Waine had to spend four weeks in quarantine, and was visited weekly with peace offerings of fresh prawns. I worked in a four vet, very well equipped, mixed practice in Northern Victoria, in the Murray River region. Having the most small animal surgical experience in the practice and being so far from the referral veterinary hospitals in Melbourne I gained extensive experience as often we had no option but to treat patients ourselves. The specialist vets in Melbourne were very supportive and would help us with lots of telephone and email advice.  One very memorable day was when four dogs from the same household were each bitten several times by snakes, as their kennel had been built at the end of summer – on top of a snake's nest! – ouch! During my time at this practice I met my partner, Pete.
After three years in the beautiful Murray River region we decided to move to the equally beautiful South West of WA. Having established quite a menagerie of animals by this point (2 sheep, 3 guinea fowl, 14 chickens, 2 dogs and, of course, Waine) Pete and I packed them all into a horse float and set off across the Nullabor. When we arrived in WA Waine was very pleased that the sheep had to enter quarantine – not him!
Pete and I have been living in the South West since 2009 and continue adding to our menagerie. Currently we live with Waine, the dogs, sheep, goats, pigs, cows, chickens, guinea pigs, quail, budgies and loads of wildlife.
Throughout my professional life I have continually developed my skills and interest in surgery. I have attended many conferences and small group training sessions with some of Australia's leading surgeons, learning new techniques and keeping up to date with advances in technology. I am currently studying for Membership into the Australian College of Veterinary Science in the subject of Small Animal Surgery.
I have been working alongside specialist surgeons at Perth Animal Surgery  referral centre and spending time at Perth Veterinary Specialists in Osborne Park. I have also operated with vets from all the other referral centres in WA, including Murdoch University.