Give your puppy the best start in life
Have you recently welcomed a new furry addition to your family? Would you like to give him or her the very best start in life? Then you have come to the right place:
Vasse Vets offers puppy classes to puppies between 8-14 weeks old that have had their first vaccination.
Why Puppy Pre-school?
Puppies develop their personality and learnt behaviour's between the ages of 4 and 16 weeks old.  By ensuring their early learning experiences are positive ones we will set them on the path to being well adjusted adult dogs and help you build the start of a long and happy relationship.  Our puppy pre-school is designed as a safe and fun environment for puppies to learn how to interact with other dogs and people (socialisation), start basic obedience training with an emphasis on positive reinforcement and for you, the owner, to learn how to recognise early problems and how to correct them.  If all this isn't enough, you also get an informative puppy pack at your first class and some presents as well!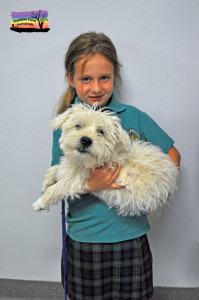 Snowy and his owner graduating from our first class
How often are the classes held?
Our classes are run by Dr. Mercedes Ng who has a special interest in dog behaviour. Classes are held once a week for 4 weeks at 6pm on a Wednesday. Each session lasts approximately 45 mins.  The cost of the four week course is $105, payable at the first session.You will receive a Kong chew toy, Bow Wow Meow puppy guide, Prime 100 sample roll, Royal Canin biscuit sample, ID tag and two months free pet insurance and their very own graduation photo from Rainbow Farm Photography!
What do I need to bring?
A flat collar and lead (no chokers please) and a bed or blanket – we will provide everything else.  If your puppy has not visited us before please bring certification of their vaccination at their first class.
How do I sign up? Call Vasse Vets on 9755 4455 and ask us when the next course starts, or contact us using the form below.