BVMS, hangry foodie, coffee is a necessity not a luxury, Dachshund enthusiast, guinea pig fan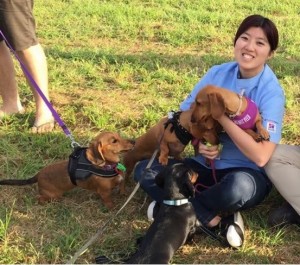 Mercedes says,
The first time I decided I loved animals and had to be surrounded by them was when my dad said I couldn't have a puppy. I don't believe in "no" so after much nagging my dad promised that I could have a Golden Retriver. When he didn't come through on his promise, I took matters into my own hands. It wasn't long until we had a shy kitten, a neurotic Jack Russell, a dopey Dachshund, guinea pigs, rabbits – as well as an endless stream of foster puppies and kittens. It would have been easier to just buy me the puppy, dad – just saying.
Where Are You From?
I am originally from Singapore but moved to Australia when I was young. My earliest memory is of being bitten by a swan at the Swan River – what a welcome. Despite your country's best efforts to kill me through many other bird attacks over the years, I survived to "adulthood" and decided I wanted to study veterinary medicine. That spur of a moment decision set me on a very. very long, seemingly never ending 6 year journey.
Throughout vet school I volunteered as a foster carer for SAFE Perth. Our home was constantly overrun by litters of puppies, kittens, rabbits, guinea pigs and even a lamb at one point. Nothing motivates you for a full day of uni like a sleepless night with crying puppies or two hourly feeds with newborn kittens.  My love for animal rescue, pet owner education and community work motivated me to participate in a 2 week spey and neuter trip in India, where I quickly realised that there is not much to eat if you can't tolerate spicy food. While slowly wasting away on a meagre diet of plain rice, I also learnt a few lessons. It is possible to operate by head torch, you should not bring iPhones into squat toilets, if there is a man-eating tiger in the area there will be a night time curfew enforced and if your dog is attacked by a leopard you should not wait a day before bringing it into the clinic.
The Lifestyle Change
Somehow during vet school I also managed to find time to meet a boy in Cowaramup. Turns out there is a point to farm prac after all. After I graduated from Murdoch University he lured me back to the South West region. With the promise of beautiful countryside, amazing beaches, delicious wines and gourmet food (cheese!), how can a foodie say no? We are now living in our new home in Margaret River with my silly sausage, Scout and my nervous wreck, Ellie. If history is to be believed – it will not be long before a menagerie of other animals joins our household.
After gaining some experience in the world of country practice, I was offered the opportunity to work at Vasse Vets.
Friendly dedicated staff, a high standard of medicine and facilities most vets only dream of – made the decision to be a part of the team at Vasse Vets an easy one.
I am so excited to be part of the Vasse Vets team and I can't wait to meet you and your pets!
– MN